2018 Ontario Fishing Licenses and Ontario Outdoors Cards are NOT available at Alexander's On Rowan Lake Lodge.
Purchase your Ontario Non-Resident Fishing License Online
Click Here to Get Started   NOTE: We Highly Encourage you to purchase your Fishing License and Outdoors Card Online before you depart on your trip!

Your 2018 8-day or seasonal, regular or conservation fishing licenses and Ontario Outdoors Card (see below) need to be purchased prior to your flight. If you didn't purchase these items online, we suggest picking up your license at the Angler's Pro Shop located at the north end of Nestor Falls next to Dalseg's grocery store. The Cloverleaf grocery store in Emo located on the north side of Hwy 11 also sells fishing licenses as well.  We cannot guarantee the Electronic Ontario Ministry of Natural Resources License System will be operating at these locations.
ONTARIO NONRESIDENT OUTDOORS CARD AND FISHING LICENSES
(Note: Prices below are in Canadian funds and include all Canadian Sales Taxes)
Non-Canadian Resident Outdoors Card
(Note: All anglers 18 years of age and over must purchase this Outdoors Card and one of the fishing license options below)
$9.68
– Plus –
Sports Fishing License
$84.96
Conservation Fishing License
$52.78
8 Day Sport Fishing License
$54.67
8 Day Conservation Fishing License
$31.10

Note: Rates may change effective January 1, 2018
Nonresidents under 18 may fish without a license if accompanied by a licensed family member. Any fish caught by such an unlicensed angler will legally be part of the catch and possession limits of the person who holds the license.
SPORT -vs- CONSERVATION FISHING LICENSES
Conservation Fishing licenses (resident and nonresident) involve lower catch and possession limits for various fish species than regular licenses.  Please read the description of the Sport and Conservation Fishing Licenses below to help you choose which license option is best for you.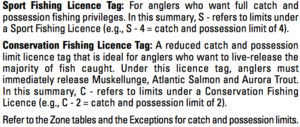 Click here to view 2018 Fishing Ontario Recreational Fishing Regulations Summary
ONTARIO FISHING SEASONS AND LIMITS
| | |
| --- | --- |
| Regular License (Conservation License) | 2018 Fishing Season Dates |
| Lake Trout, Limit 2 (1) | January 1 to September 30 |
| Northern Pike, Limit 4 (2) | All Year |
| Largemouth Bass, Limit 4 (2) | All Year |
| Walleye, Limit 4 (2) | May 19 |
| Muskie, 54″ Minimum (0) | June 16 to November 30 |
Ontario Outdoors Card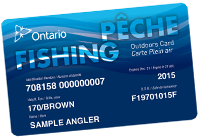 You need an Outdoors Card before you can buy licence tags to fish or hunt in Ontario.
There are two types of Outdoors Cards. If you want to fish only you'll need a fishing-version Outdoors Card; if you want to hunt only you'll need a hunting-version Outdoors Card. If you want to both fish and hunt you'll need a hunting-version Outdoors Card. In all cases you will need to purchase licence tags for the fish or game you wish to pursue, and carry them with your Outdoors Card.  If you already have an Outdoors Card make sure it is up to date.  You may need to renew an old card.
In order to get your first Fishing Outdoors Card, you'll need to have the following information:
Your first and last name
Your date of birth
Your mailing and residential address
Your height and eye color
Click here to purchase your Ontario Fishing License and Outdoor Card online.
Helpful Links