Pat, Cheryl, Kris & Wes Alexander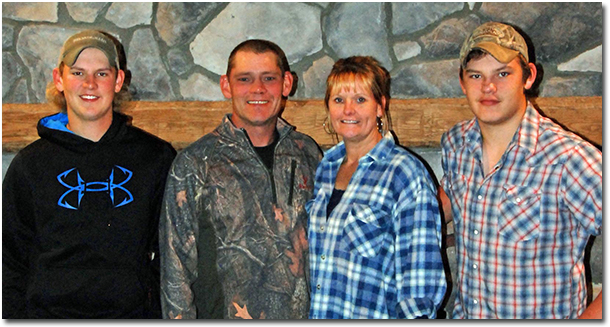 Pat and Cheryl are excited to share with you the beauty of Rowan lake.  With over 25 years of experience as Ontario business owners and life time outdoor enthusiasts, they have a ton of experience in making your trip memorable.  The Alexander's have camped, fished and hunted throughout Ontario, Quebec and Alaska for over 25 years.  Pat is following in his grandparents footsteps as a lodge owner in the Ontario Wilderness.  Our goal is to provide the highest quality customer service, with excellent accommodations, equipment and warm hospitality.
Our Fishing Guides
Kris Alexander, the eldest son has been guiding fisherman on Rowan Lake for many years and worked himself up to lead guide status.  He has been mentored and trained by one of the best muskie fisherman around, Don Pursch.  Combined with his knowledge of Rowan Lake, his open and friendly personality, your guided days on and off the water are sure to be successful, enjoyable and fun!
George James, a close friend of the Alexander family has been fishing at Nielsen's Fly-In Lodge for 14 years and has extensive knowledge of Rowan Lake.  George is a retired fishing tackle wholesaler from eastern Ontario, who has fished extensively across Canada for 60 years.  George is an accomplished fisherman of all of Rowan's fish species.  Willing to show and share his knowledge of the lake, tackle and techniques, your days on the water with George will be memorable and very productive.
Our Friendly Staff and Attention to Details

Here you experience that famous Canadian hospitality at its finest! Our renowned Canadian lodging experience is built into every nuance of each guest's Fishing Adventure. From the moment you begin to plan your trip, you'll notice the extra care we take to ensure every detail is carefully tailored and executed.
We are more that just the average Canadian Fly-In Fishing adventure. We offer outstanding fishing,
ultra clean accommodations, awesome hospitality and great friendly service!